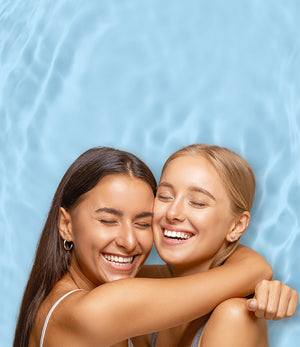 Making The Best Carbonic Shampoo On The Market Wasn't Easy.
A Story of Inspiration and Success
It's our job to help you feel beautiful – and we take our job very seriously.
We're a team of veterans in the haircare industry who saw that most shampoos just don't measure up.
There is too much fluff and not enough fulfilment.
The promises are too big and the payoff is too small.
That's why we created ELUXE.
When we set out to make the formula, we knew it had to go beyond just aesthetics.
To us, beautiful means healthy, and returning the vitality and nutrients to hair was the most organic, straight path we could imagine in order to help people get there.

Why ELUXE Works When Even The "Luxury" Brands Fall Short
We applied Nobel Prize-winning science alongside a powerful formula of essential oils and antioxidants to create ELUXE.
With microscopic carbon bubbles, ELUXE safely and painlessly scrubs away debris and sweat on a level that all the other shampoos at the salon can't even touch.
That means ELUXE gets to work immediately and visual improvement can be seen in just days, not weeks or months.
We like to think it's like breathing fresh life into your look… when really, we're just letting your scalp and hair flourish and do what it was always designed to do.
A Complete Solution To Reclaim
What's Naturally Yours
ELUXE is our gift to women everywhere who want to claim more confidence and be more beautiful simply by bringing out the natural, vivacious health of their own hair.
From damaged hair, to fried, over-dyed, or just too frizzy,
ELUXE is a comprehensive solution that gets to the little root of the problem and rejuvenates it using cutting edge science.
Grab your bottle of ELUXE today and start your hair transformation journey.
Don't Let Another Day Pass With Hair You Don't Love!
Because everything looks better with great hair.