What ELUXE Users Are Saying:
Have Committed To
Everyday ELUXE Use
Said They Found ELUXE To Be
Full Of High-Quality Ingredients
Found ELUXE To Be
Effective For Them
Enjoyed The Smell and
Texture of ELUXE
What To Expect From The ELUXE
Shampoo + Conditioner Combo
With organic oils, 14 powerful, additive-free ingredients, and a scientifically validated formula, ELUXE leverages the industry-changing power of fullerene to clean deeper than ever thought possible. Fullerene is an arrangement of carbon atoms shaped like tiny spheres – but they're much more than a fun shape. Once arranged into these ball-like structures, they can clean away dirt and grime on a molecular level, acting like microscopic scrubbing brushes to cleanse in a way that other shampoos can't touch.
Get Salon-Quality Beauty At Home
Smooth, Repair and Enhance Your Hair
Finally – a way to get resilient, healthy locks from shampoo and conditioner alone. But it's not just healing, it's also protection: ELUXE shields from heat while also moisturizing and reducing frizz.
A Subtle But Alluring Floral Scent
Enjoy sweet hints of peony, rose, bergamot, and white musk for a complex symphony of smells for a delicate but addicting smell.
Organic Ingredients, Real Results
Instead of toxins or chemicals, we use pearl protein, artichoke extract, and more for an all-natural formula you can trust. Frizz is tamed, dandruff is erased, and itchy scalp is smoothed… all from ingredients that come straight from the earth.
Inspire Growth and Encourage Authentic Shine
Achieve hair health and quick growth that other brands just can't match! With daily use, you'll see a newfound sense of youth and vitality return to your hair faster than you could imagine.
The ELUXE Difference: Step by Step
Step1.
Wet your scalp with warm water and pour a small pool into your hand. Massage gently into every area of your scalp then rinse.
Step2.
Follow up with ELUXE conditioner to hydrate, repair, and protect from further damage. For even deeper repair and benefits, check out ELUXE repairing hair oil.
★In just 2 to 4 weeks, you'll likely notice less breakage and fewer split ends.
★After 8 weeks, enjoy a huge reduction in frizz and a huge boost in shine and overall health.
After just 1 to 2 months, ELUXE users reported:
● A smoother, more oil-free head of hair
● A decrease in itchiness and irritation
● A decrease in dandruff
● Better, healthier scalp moisturization
Haircare Without the Chemicals
Prepare for an organic haircare experience that's especially formulated to address every part of hair – from the follicle to the tip. Strong, shiny, smooth, voluminous hair is not just possible, it's inevitable… all from just using ELUXE like any other shampoo for just minutes a day.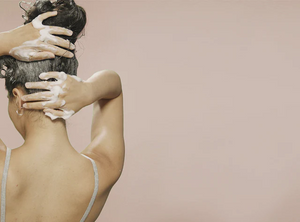 Shop Now To Transform
Your Scalp & Hair Health